Plonked between the Comeragh and Knockmealdown Mountains, Glasha Farmhouse resides at the heart of the Nire Valley. And right at the heart of Glasha Farmhouse resides one of the bubbliest bean-an-tís I've met in recent years.
Mrs Olive O'Gorman dishes up welcomes as warm as her home cooking (think buttery scrambled eggs wrapped in smoked salmon for breakfast, or rack of Comeragh lamb for dinner), and, with the Nire running right by the door, her dairy farm is a good fit for both walkers or fishermen. The Bridge Bar is no more than a three-minute walk away too, "though it might take you longer to come back", Olive says.
If you do stay in Glasha, request either the Bannard or Ballymakee rooms. Housed in the upper storey of a converted milk parlour connected to the house, they come with vaulted ceilings and Jacuzzi tubs.
Pól O Conghaile -Irish Independent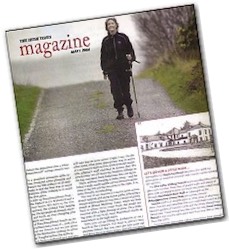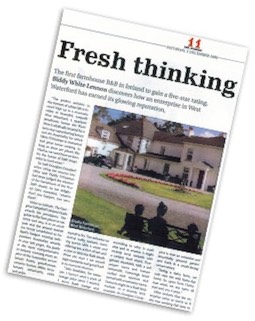 Ireland, Holiday, Walking. Now what are we missing? Ah, yes, Rain - preferably by the bucketload. I drive to west Waterford in early spring sunshine, and arrive at my B/B to find it surrounded by twinkling mountains; the soft tops of the Comeraghs to the east, the sharper peaks of the Knockmealdowns to the west. I pull on my trousers and boots, zip up my jacket - and step out into a relentless downpour. Not a shower, mind. A deluge. Did somebody say "walking weekend"? It would be enough to make you weep - and if there wasn't quite enough water running down your face already, thanks very much. How about a weekend indoors with an Ed McBain book? But no. Here is my guide sloshing his way across the car park with hand outstretched. we synchronise our hoods and set off. You've heard it said of people that they know a place like the back of their hand? Well, Michael Desmond knows the Nire Valley better than that - and listening to him talk about it is like looking at the back of your own hand and realising that you've never really seen it before. This he explains, is the place where Waterford meets Tipperary, sandstone meets limestone...... Back at Glasha Farmhouse my indefatigable landlady, Olive O'Gorman, goes into mountain rescue mode. Dripping clothes and muddy boots are whisked away to be dried; by the time I struggle upstains, soup and brown bread have materialised on a tray at the end of my bed. Glasha is the kind of place I suspect you'd always be glad to come home to. My room contains everything the weary walker always needs, but hardly ever gets: proper tea and coffee-making gear complete with cappuccino-sized blue cups and a basket of nibble-sized chocolate bars; bottles of water, still and sparkling; a large wall mirror with a plug right underneath for drying hair and, joy of joys, a proper hairdryer instead of those unspeakable abominations which don't work unless you hold your finger on the damn button all the time. Walking groups are a speciality at Glasha, but if you're thinking of losing weight on a hiking weekend, forget it. Home baking is another house speciality and trust me, you won't be able to resist a)the apple and raisin muffins, b) the walnut and courgette bread, and c) the tiny scones, so small you just have to have two at a time. Breakfast, laid out in a conservatory overlooking the garden,is a delight - or a dilemma? Cranberry, apple and freshly-squeezed orange juice, rhubarb and strawberry compote, prunes with apricot, fresh strawberries, home-made apple muesli, natural flavoured and probiotic yogurt, farmhouse cheeses and heaps of the aforementioned breads, and that's just for starters. Come dinner-time you can be tucking into rack of lamb, poached monkfish, fresh almond and raspberry roulade. You get the picture....... Sunday morning dawns sunny and bright, and at five minutes before the appointed time a white van marked "mountaincraft" swings smartly into the drive. Donal Bray is a qualified mountain skills instructor who runs weekend route-planning and map-reading courses for hill-walkers of all abilities. His philosophy is that the best way to avoid navigational problems while walking is to avoid getting lost in the first place....... Sure you can go hiking in Andalucia or on a beach in the Canaries. I've done it, and it's very pleasant indeed. But you can't get into your car and drive there in three hours: and it'll cost you a slight more than the £135 per person sharing you'll pay for a weekend at Glasha Farmhouse - two nights B&B and on evening meal - at this time of year. I drive back with my head full of mountains. Rain? What rain?"
Arminta Wallace -The Irish Times
The rush of new hotels offering low cost breaks in recent years had the effect of putting pressure on the traditional B&B – but, as Failte Ireland recognise, a good B&B can offer guests a truly Irish Experience like no other, with great hospitality, good wholesome food and loads of local knowledge. Paddy and Olive O'Gorman's spacious farmhouse high up in the hills in West Waterford is just the kind of place that visitors dream of finding when they come to Ireland - and for townies too, it makes the perfect relaxed rural break. There's loads to do out of doors - walking is a major attraction, for example, as Glasha links the Comeragh and Knockmealdown sections of the Munster Way; and also fishing, as the River Nire runs beside the farmhouse; painting this beautiful area is a popular pastime; and both pony trekking and golf are available locally. Bedrooms are very luxurious for a farm stay and Olive thinks of everything that will help guests feel at home (including plenty of comfortable lounging room for guest, a conservatory and garden). Olive makes delicious home-cooked dinners for guests if required and, by a happy chance, the nearest pub is just 3 minutes' walk from the house. A good breakfast will see you on your way – with guidance a-plenty on what to do and where to find it. This is a lovely place to stay, and a perfect antidote to the stresses of urban life – the 'Irish Experience' B&B personified.
Fáilte Ireland - 2010 Award Winners Irish Experience B&B